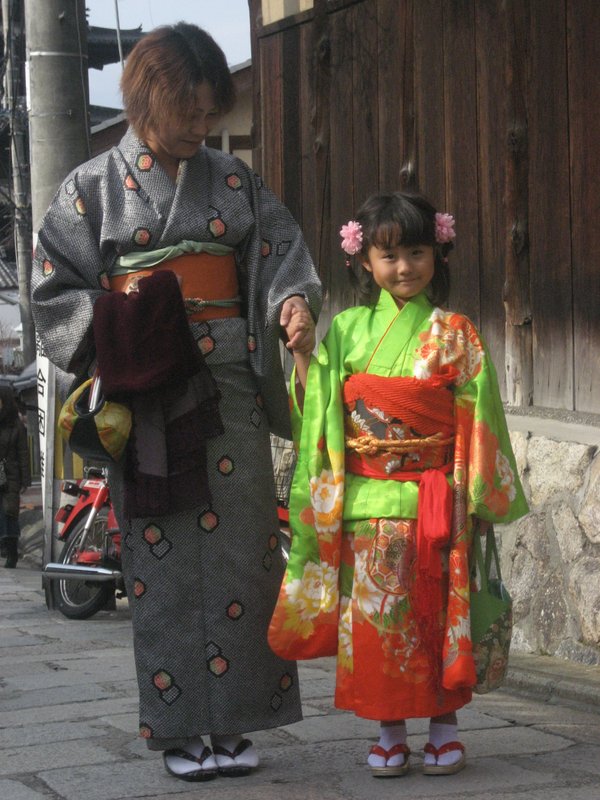 Our private tours of Kyoto, guided by a licensed guide, and planned by an expert, take you into the amazing worlds of this city, the Imperial Capital of Japan from 794 to 1867.
If it is your first time in Japan on vacation or holiday then chances are you will spend at least a day or two in Kyoto: it's an amazing and ancient city and the options are nearly endless. Our custom Kyoto city tours include both the Old and the New. We offer Kyoto private tours that begin very early in the morning (2-hour Dawn Picnics; usually self-guided; please inquire) and really creative 4-hour guided night tours that introduce tourists and visitors to the interesting (family safe) after dark worlds of Kyoto (Gion, Fushimi Inari Grand Shrine, street food, shrines, modern art and stunning night views).
Our guided private Kyoto tours, Kyoto area day trips, and tour itineraries are flexible and focused on three travel advantages: 1) Personalized itineraries designed by a Japan travel specialist (since 1990). 2) High value tours at competitive prices for independent private or small group travel. 3) Helpful logistical and cultural guidance by a local Kyoto private guide (in English, Spanish or Chinese).
Our Kyoto city tours are planned around flexible itineraries that usually include only 2 or 3 areas in a single day. To see the very best of Kyoto try to have at least three days to explore Higashiyama, Gion, downtown shopping, the northwest (Golden Pavilion and Zen culture), and highly popular Arashiyama, home to the Bamboo Forest path. local licensed bilingual guides help you explore Kyoto - Japan's cultural heart
Our guided or escorted Kyoto tours—one day or many days—are focused on saving time, seeing the best attractions, and showing you a lot of traditional or modern Japanese life and culture. In peak Kyoto high season (April and November) we highly recommend walking a lot and using subways and trains to get across town.
Are you and your family or small group short on time? Great planning requires great effort. We do all that but the options are all yours. Our guided and self-guided Kyoto custom tours can be designed to suit your pace: really relaxing and slow or fairly fast and busy . . . The options are all yours! And all of our private Kyoto tours can be tailored to your very specific and personal interests such as walking or focused shopping, art or theatre culture, cuisine, gardens & nature, manga & anime, handicrafts & antiques . . .

Our Kyoto private guides are knowledgeable, friendly, flexible and trained to follow the final itinerary approved by you and your family or group. Our local bilingual Kyoto guides add value to your trip through their personal insights and interesting cultural knowledge. They are also great introductory teachers and can teach you important logistical information (how to use the ticket machines and the almost-perfect Kyoto public transportation system) and answer any burning questions you may have.

Our most popular Kyoto Private Tours

#1 The Jewels of Kyoto's East Side tour highlights: Our most popular Kyoto tour follows the Higashiyama ridge using back lanes and includes the Silver Pavilion, Nanzenji Temple, Chion Temple, Kiyomizu Temple, as well as a blend of hidden Shinto shrines, and great craft and gift shopping sections. #2 The Fascinations of Northwest and West Kyoto tour highlights: This tour includes an exquisite 15th century Zen complex, a tea break in 400-year-plus outdoor Shrine setting, an optional stop at the Golden Pavilion, an exploration of the west side Arashiyama district (including the famous bamboo forest), and the Nishiki food market and Teramachi traditional shopping zone. #3 Nara Park Perfections & Horyuji Buddhist Beginnings: This tour usually begins with a visit to the oldest wooden buildings in the world at Horyu-ji Temple (Japan's first large Buddhist temple), including the temple's excellent museum, and ends in the timeless environs of Nara Park. #4 Fushimi Inari Grand Shrine & Gion Night Walk highlights: This very popular tour begins with an after dark stroll through the vast sacred precinct of Fushimi Inari and its tunnels of orange torii gates and ends with a two-hour back lane stroll through the exotic geiko maiko worlds of the Gion district. #5 Off-the-beaten track Kyoto Secret Spot Tour highlights: These tours feature an interesting selection of top-value areas not mentioned in most guide books. Notably old neighborhoods, serene scenes that offer the quintessential Japan experiences we all hope for, stunning gardens and views over the city. Please enquire for other day trips (Shiga and the Miho Museum) and other themes of interest (ceramics, textiles, tea ceremony, the maiko of Geisha Gion, high fashion and design). We love to help our clients find what they have come for . . .

Let's get the conversation going. Email us today!

If you don't want to be with a local Tokyo tour guide every day or just want to save money but still be in control don't forget our very popular self-guided or digital tours.. Self-guided tours, ideal for independent travelers of any kind, are all customized to your individual or group needs and designed for good time flow, flexibility, and ease of travel. Digital tours are a great way to see and experience Tokyo or Mount Fuji or Kamakura on your own. They are also great for traveling to remote areas of Japan. With these smart, compact PDFs (downloaded to your smartphone), complete with maps, historical and cultural summaries, you can see and do a lot on a flexible tour schedule, and save between 58% and 76% compared with our private guided day and city tour rates.
If your trip is longer and multi-city then our 5-7 day, 7-10 day, 10-14 day tour packages anywhere in Japan offer great value for your 2017 or 2018 holiday in Japan. These smart packages combine guided tour days and self-guided day tours. All our Premium and First Class Japan tour packages are totally flexible and include free restaurant reservations and 24-7 support. Our Japan holiday tour packages are all personalized and professionally planned by our Japan travel specialist. Every package includes days with our friendly licensed bilingual local tour guides and detailed digital guidance (PDF format) for buying train tickets, exact train schedules, bilingual taxi instructions, walking maps and cultural summaries. Please inquire to book or if you have any questions or special needs or requests (wheelchair travelers are no problem at all!).
Let's get the conversation going. Email us today!
Tokyo Private Tours: Check out our Tokyo highlight tours and other custom one day tours in Tokyo. Great itineraries for great tour days in and around metropolitan Tokyo. Day Trips & Tours from Tokyo: Custom day tours and day trips to Mount Fuji | Lake Kawaguchi | Hakone, Kamakura and Nikko. Let us know how we can get your trip started today!
Kyoto Private Tours: Our Kyoto highlight tours and other unique one day adventures in and around Kyoto are ideal for seeing the best without any stress at all! Day Trips & Tours from Kyoto: Custom day trips from Kyoto include the older Imperial capital of Nara, Shiga and the Miho Museum, Himeji | Kurashiki, the Tango Peninsula, and Hiroshima. Let us know how you would like to do Kyoto today!
Osaka Private Tours: Our Osaka private tours are a great way to learn about Osaka's unique culture, famous for food and bright color fun day and night. Day Trips & Tours from Osaka: There are so many places an hour from Osaka including Nara, Kyoto, Kobe, Himeji | Kurashiki. All of these custom day trips or tours can be part of your Osaka vacation or trip. Let us know how we can help today!
Beyond Tokyo and Kyoto & off-the-beaten track destinations: We offer guided private tours in all of Japan's popular tourist centers, and digital self-guided tours anywhere in Japan. Off-the-beaten-track tours of Japan are one of our specialties. All our tours can be tailored to your specific interests. Please inquire.