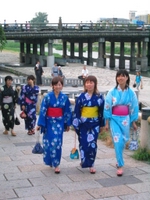 Our off the beaten track tours and strategies, often digitally guided but not always, can put you in some pretty amazing places. Most Japan travelers stick to the standards: Tokyo, Kamakura, Nikko, Takeyama, Kyoto, Nara and Hiroshima. But even in these popular destinations it is always possible to find high value gems that can be combined with the often crowded main attractions. In the Japanese countryside, like the Izu Peninsula just west of Tokyo or the Tango Peninsula northwest of Kyoto, the Japanese travel experience can be exceptionally rich, serene and generally no tourists in sight!
In peak April and November seasons, especially in Kyoto, getting away from the crowds is essential. Kyoto receives 50 million Japanese visitors a year: 10 million in April during sakura hanami cherry season, and 10 million more in November during the momiji maple leave season. This means that high-season in Kyoto is really challenging: long lines, traffic jams and even gridlock. Many high-value venues, such as the Golden Pavilion or Kiyomizu Temple or the Bamboo Forest Path, are over-crowded year round. I have designed five amazing off the beaten track tour itineraries in and around Kyoto. These destinations are special and you won't find them in most guide books. And they are just around the corner and easy to get to with our PDF-format English-Japanese digital self-guided tours.
We love guiding people out of the cities to the wonders of countryside Japan where natural attractions abound in traditional settings amid lush mountains or along spectacular coastlines. In recent years, we have "guided" clients to the Tango Peninsula, the Izu Peninsula, along the Kumano Kodo pilgrimage route, and to the exotic edges of Okinawa and Hokkaido. In 2005 we guided a father and son from one end of Japan to the other including scuba diving stops, hikes in isolated national parks and interludes at unheard of hot spring towns. They had a fantastic time and did it all with just a little help from us. Let us do the same for your next Japan trip.
If you don't want to be with a local Tokyo tour guide every day or just want to save money but still be in control don't forget our very popular self-guided or digital tours.. Self-guided tours, ideal for independent travelers of any kind, are all customized to your individual or group needs and designed for good time flow, flexibility, and ease of travel. Digital tours are a great way to see and experience Tokyo or Mount Fuji or Kamakura on your own. They are also great for traveling to remote areas of Japan. With these smart, compact PDFs (downloaded to your smartphone), complete with maps, historical and cultural summaries, you can see and do a lot on a flexible tour schedule, and save between 58% and 76% compared with our private guided day and city tour rates.
If your trip is longer and multi-city then our 5-7 day, 7-10 day, 10-14 day tour packages anywhere in Japan offer great value for your 2017 or 2018 holiday in Japan. These smart packages combine guided tour days and self-guided day tours. All our Premium and First Class Japan tour packages are totally flexible and include free restaurant reservations and 24-7 support. Our Japan holiday tour packages are all personalized and professionally planned by our Japan travel specialist. Every package includes days with our friendly licensed bilingual local tour guides and detailed digital guidance (PDF format) for buying train tickets, exact train schedules, bilingual taxi instructions, walking maps and cultural summaries. Please inquire to book or if you have any questions or special needs or requests (wheelchair travelers are no problem at all!).
Tokyo Private Tours: Check out our Tokyo highlight tours and other custom one day tours in Tokyo. Great itineraries for great tour days in and around metropolitan Tokyo. Day Trips & Tours from Tokyo: Custom day tours and day trips to Mount Fuji | Lake Kawaguchi | Hakone, Kamakura and Nikko. Let us know how we can get your trip started today!
Kyoto Private Tours: Our Kyoto highlight tours and other unique one day adventures in and around Kyoto are ideal for seeing the best without any stress at all! Day Trips & Tours from Kyoto: Custom day trips from Kyoto include the older Imperial capital of Nara, Shiga and the Miho Museum, Himeji | Kurashiki, the Tango Peninsula, and Hiroshima. Let us know how you would like to do Kyoto today!
Osaka Private Tours: Our Osaka private tours are a great way to learn about Osaka's unique culture, famous for food and bright color fun day and night. Day Trips & Tours from Osaka: There are so many places an hour from Osaka including Nara, Kyoto, Kobe, Himeji | Kurashiki. All of these custom day trips or tours can be part of your Osaka vacation or trip. Let us know how we can help today!
Beyond Tokyo and Kyoto & off-the-beaten track destinations: We offer guided private tours in all of Japan's popular tourist centers, and digital self-guided tours anywhere in Japan. Off-the-beaten-track tours of Japan are one of our specialties. All our tours can be tailored to your specific interests. Please inquire.
Tours are subject to guide availability (especially in April, August and November). Booking earlier than later is always recommended (our cancellation policy is very clear). Payment by wire transfer and | or cash depending on each client's situation. Email us today to learn more!